2 x hot pink cassette tapes
ltd edition 100
and
a portable cassette player (used but in fully working order)
hand picked for you, by me.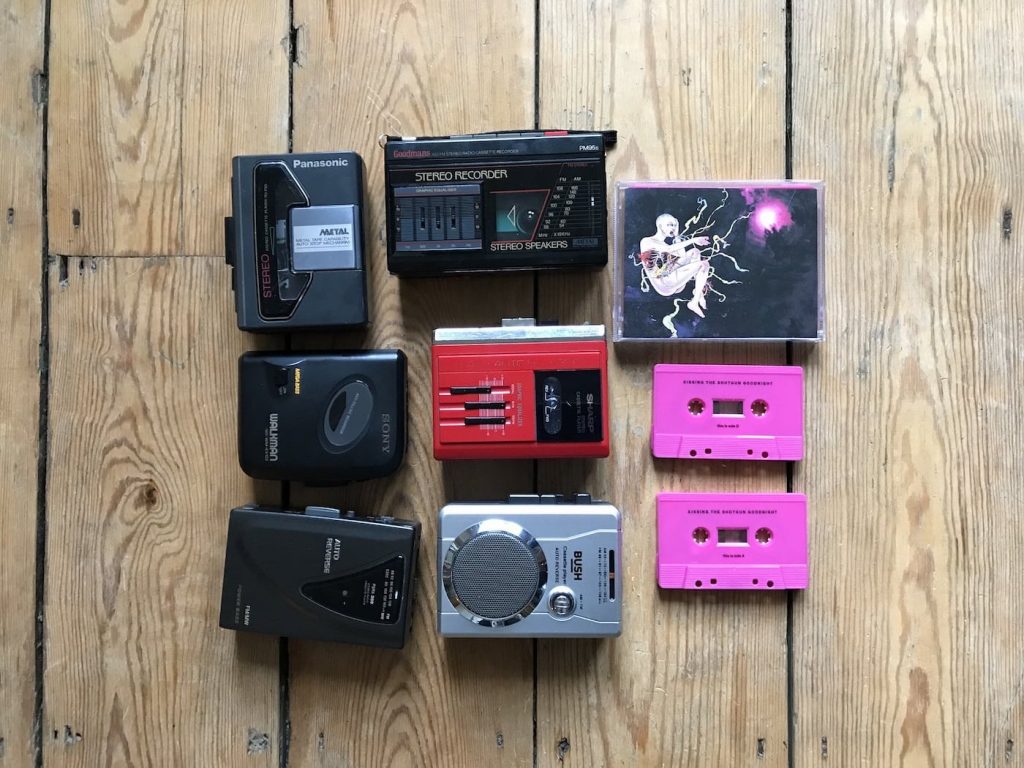 cassette players are purloined off eBay or via used electronic shops, market stalls etc. all tested at home by me before being sent out. each has headphone output as standard, some come with little speaker for listening at the beach or in the bath tub. batteries sold separately. Xx.
soundtrack:
side a:
nine
bastard angels
side b:
kim rex at the lips of hell
xxx evil
side c:
petrol tears
audiobook:
side d:
chapter 1
chapter 2
chapter 3
credits:
soundtrack composed & performed by alicia jane turner, george percy & christopher brett bailey // audiobook written & performed by christopher brett bailey // recorded and mixed by jake sanders // mastered by clive painter // cover art by nathan hoste // layout by tomas jefanovas // dramaturg & co-director: anne rieger // theatrical producer: beckie darlington // lighting design: lee curran // sound design: george percy & christopher brett bailey // production manager & technician on the road: helen mugridge // recorded on location at attenborough centre for the creative arts, winter 2017.
pastelheck002
got a sec? why not watch a video of XXX EVIL at this link…!!
"if Sonic Youth remixed Rite of Spring with Burroughs reading nightmare bedtime stories" – stephanie king 
"a sonic assault of astonishing ferocity" – buzzmag
"a high-decibel. sternum-quaking tsunami of sound, accompanied by throbbing psychedelic lighting"*  – the stage
*please note: throbbing psychedelic lighting is sold separately. this is a quote about the live show, not the album. we've done our best to capture the 'tsunami of sound' and translate it to tape in a way that will sound badass, even on tinny speakers, but if you wish to recreate the throbbing psychedelic lighting that part is up to you. maybe you could buy a lava lamp? get that and a beanbag chair and these hot pink cassettes and you'll be the coolest girl on the block!