published by Oberon Books. 120 pages, paperback.
ISBN 9781783191970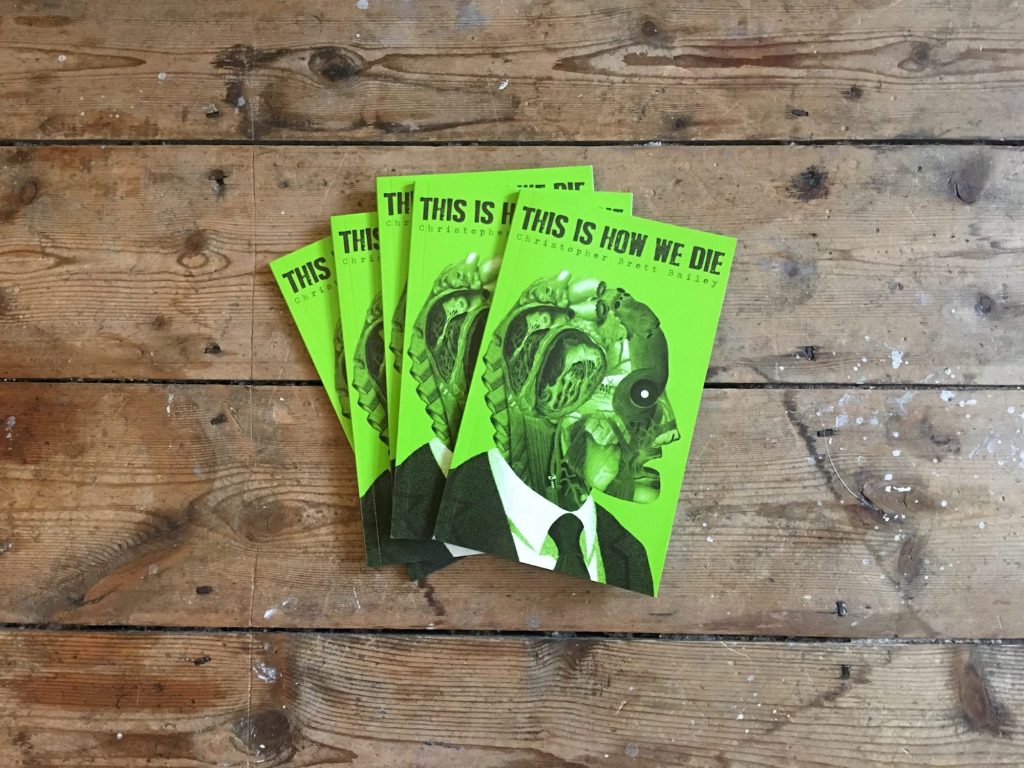 back cover synopsis:
a motor-mouthed collage of spoken word and storytelling. tales of paranoia, young love and ultra-violence – from the desk of Christopher Brett Bailey comes a spiralling odyssey of pitch-black humour and nightmarish prose. THIS IS HOW WE DIE is a prime slice of surrealist trash, an Americana death trip and a dizzying exorcism for a world convinced it is dying …
**please note… as of summer '17 the first printing is sold out so from now on all copies are of the EXPANDED EDITION, which includes
35 pages of bonus material… the complete text of B-SIDES & RARITIES (a monologue made from off-cuts, alternate versions and deleted scenes.)
10 corrected typos!
4 more pages of jissum!
…all that and we didn't even put the price up!
'Is this actually how we die? Driven at disorientingly high speed through the blazing landscape of our own riot-torn hearts, while the radio blares adverts for impossible products conceived in the agonizing heat of capitalism's terminal inferno? Christopher Brett Bailey auctions off everything we have and everything we think we know to the lowest bidder, leaving us stripped and spent and blissed out and beaten by language, that treacherous stuff we had thought was our friend. No, there ain't no sanity clause: but I'd trust Bailey with my life, and if this is how we die, you know, it's really not such a bad way to go.' – Chris Goode
'A production that is as unique as it is moving, as it is disturbing… Amidst the no-holds-barred analysis of our bleak and hypocritical society there is beautiful humour. Bailey's dark and morose take on the open road sojourn has great heart within the poetry… filled with grand insight and macabre farce.' – A Younger Theatre
'A bold title. A simple premise. A raving monologue. A twisted fantasy. A hurricane of lyrics. A dark, venting, ragingly brilliant piece of theatre' – TV Bomb